Hardwood Robinia Timber Cross Scales Unit Liss Forest Play Area – Robinia Timber Play Equipment
Here is another Playsafe Playgrounds project for Liss Forest Parish Council at Liss Forest Recreation Ground. Following the structural failure of their existing Cross Scales Unit in the play area, Playsafe Playgrounds Ltd was asked to source and provide a replacement. The new Hardwood Robinia Timber Cross Scales Unit was manufactured and supplied by the Dylan Group for the project with the removal and installation works carried out by the Playsafe Playgrounds project team.
Here is a image of the completed Hardwood Robinia Timber Cross Scales Unit at the Liss Forest Play Area: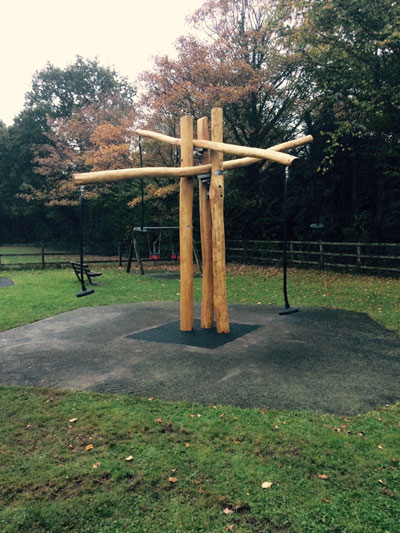 Play Equipment Manufacturer – Robinia Timber
Playsafe Playgrounds also supply bespoke Robinia Timber Play Solutions for Parks and Open Spaces, Parish Councils and Schools to suit budgetary requirements and specifications. These can range from small decked tower units right through to an extensive range of adventure trail items. Similar to the large park projects, every item of Robinia play equipment manufactured to BSEN1176 standards, is lovingly hand crafted by our locally sourced team of craftsmen in the heart of West Sussex and finished to the highest quality and standards.
Please contact us to discuss your requirements on 01730 815472