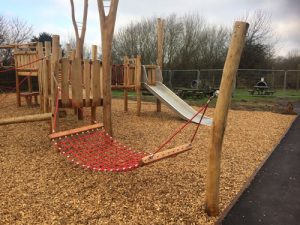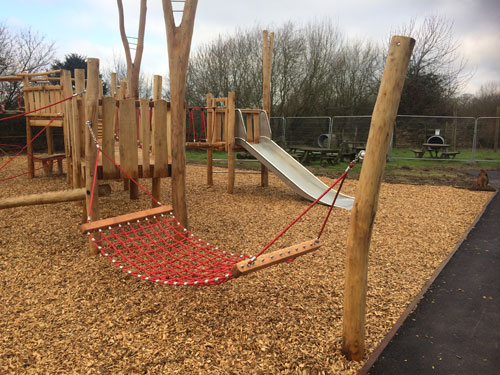 Hardwood Timber Play Equipment RSPB Pulborough
Here is another Playsafe Playgrounds project for the RSPB Pulborough Brooks Nature Reserve near Pulborough in West Sussex.
Playsafe Playgrounds Ltd was asked to manufacture, supply and install a bespoke made climbing unit constructed from hardwood robinia timber and designed to cater for a wide age range of 2-12 years old. The design includes easily accessible platforms and access/exit points with a wide variety of the following features:
Platforms –
Various height platforms (for the young and older age range);
Forked feature poles will be included within the towers for additional visual impact;
Platform Link Ups –
Slatted fish bone link bridges complete with hand rails;
Inclined suspension bridges complete with hand rails;
Balance walk bridge complete with rope hand rails;
Cross rope crossing;
Balance log link complete with hand rope;
Access & Exit Features –
Timber climbing wall;
Stainless steel fireman's pole;
Stainless steel sliding rails;
Easy access timber steps;
Stainless steel ladder rung to triangular deck;
Stainless steel double width slide:
Inclined timber ramp complete with treads;
Log step to access 600mm platform;
Additional Features –
Under deck seating;
Stainless steel telescopes;
Hammock rope swing;
Full barriers to all decks;
The Robinia Timber was supplied by the Dylan Group for the project, with the project management, fabrication, construction and installation carried out Playsafe Playgrounds management and installation teams.
Here's some images of the completed RSPB Pulborough Brooks Project:
Emily Summers – RSPB's Visitor Experience Officer commented: "Our lovely new playground continues to get fantastic feedback from our visiting families so we are all very happy over here. We are planning to hold a "Family Fun Day" event on Saturday 31 March will officially "launch" the new equipment and we would like to extend an invitation to Playsafe to come along on the day. It is a drop-in event between 11 am and 3 pm when we will be giving all families free entry to the reserve and they can take part in various different nature-themed activities, including pond-dipping, as well as trying out the playground."
Play Equipment Manufacturer – Robinia Timber
Playsafe Playgrounds also supply bespoke Robinia Timber Play Solutions for Parks and Open Spaces, Parish Councils and Schools to suit budgetary requirements and specifications. These can range from small decked tower units right through to an extensive range of adventure trail items. Similar to the large park projects, every item of Robinia play equipment manufactured to BSEN1176 standards, is lovingly hand crafted by our locally sourced team of craftsmen in the heart of West Sussex and finished to the highest quality and standards.
Play Equipment Installation
Playsafe Playgrounds Ltd are an independent playground company, we are therefore able to install any other playground manufacturers equipment. This gives you the total flexibility to mix and match any solutions to suit your budget and requirements. This can range from a springer through to large steel / wooden multi tower units as well as all types of rotating and swinging equipment. As independent playground designers our dedicated team can design, develop and produce the most cost effective concepts and solutions without compromising on play value and individual items.
Our installation services include the following range of play equipment:
Single Deck Tower Units
Multi Deck Tower Units
Swings i.e. Flat Seat, Toddler, Nest
Aerial / Cable Runways
Springing equpiment i.e. springers and seesaws
Ball Play – MUGA – Multi Use Games Areas
Embankment Slides & Standard Slides
Adventure Trail Equipment i.e. suspension bridges, 'A' Frames, stilts, stepping logs, balance beams etc…
Play Huts
Roundabouts
Trampolines
Please contact us to discuss your requirements on 01730 815472