Here is another completed Playsafe Playgrounds project for Leith Plant Hire for a site in Dorking, Surrey.
The Project involved the following works:
The installation of Resin Bound Gravel Infills inbetween concrete slabs to create a continious pathway.
Here's some images of the completed project: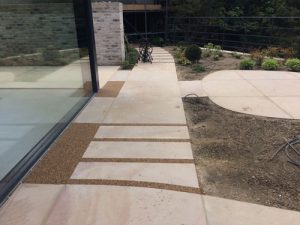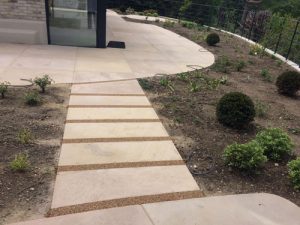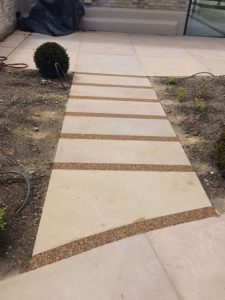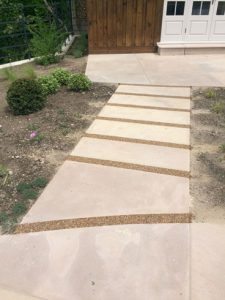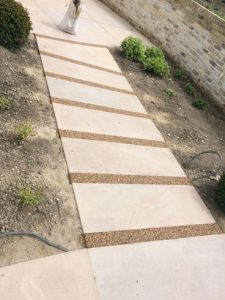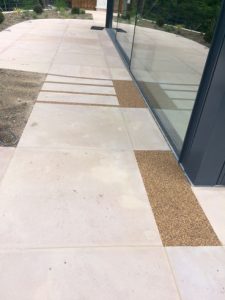 Resin Bound Gravel
Playsafe Playgrounds resin bound gravel provides an attractive, hard wearing and low maintenance surface. This is achieved by thoroughly mixing a washed & dried loose gravel aggregate in a resin, then laid at a depth of 15mm to either concrete, tarmacadam asphalt, wood or metal surface. This provides the appearance of a loose gravel without having the multitude of maintenance problems.
Key benefits of Resin Bound Gravel:
 – Decorative with a natural appearance
 – Variety of colours and grades available
 – Durable, Robust, Hard wearing and Resilient
 – Does not migrate, move or wash away
 – Natural Anti-slip Surface (additional anti slip can also be applied)
 – Low maintenance
 – Can be applied to tramacadam asphalt, concrete, timber and steel surfaces
Differences between Resin Bound and Bonded Gravel –
Resin Bound Gravel –
As described above, it is a washed aggregate mixed in a resin and then laid at a depth of 15mm to a prepared surface e.g. concrete or tarmacadam asphalt.
Bonded Gravel –
This is a washed aggregate that is loosely scattered onto a resin prepared surface.
Please Note: This product is therefore not as robust and durable so we strongly recommend Playsafe Playgrounds Resin Bound Gravel solution.
Play Equipment Installation
Playsafe Playgrounds Ltd are an independent playground company, we are therefore able to install any other playground manufacturers equipment. This gives you the total flexibility to mix and match any solutions to suit your budget and requirements. This can range from a springer through to large steel / wooden multi tower units as well as all types of rotating and swinging equipment. As independent playground designers our dedicated team can design, develop and produce the most cost effective concepts and solutions without compromising on play value and individual items.
Our installation services include the following range of play equipment:
Single Deck Tower Units
Multi Deck Tower Units
Swings i.e. Flat Seat, Toddler, Nest
Aerial / Cable Runways
Springing equpiment i.e. springers and seesaws
Ball Play – MUGA – Multi Use Games Areas
Embankment Slides & Standard Slides
Adventure Trail Equipment i.e. suspension bridges, 'A' Frames, stilts, stepping logs, balance beams etc…
Play Huts
Roundabouts
Trampolines
Please contact us to discuss your requirements on 01730 815472