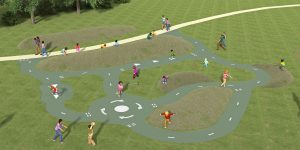 Scooter Track Official Opening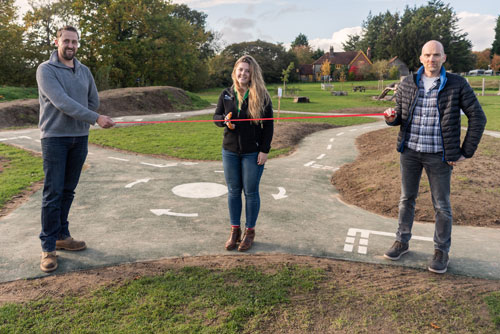 It's wheely good news! New scooter track is created for children in Easebourne, Nr Midhurst West Sussex.
A new state-of-the art landscaped scooter track is giving hours of enjoyment and exercise to children in the great outdoors.
The track was unveiled earlier this autumn at Easebourne Community Space, an award-winning park that has been given a new lease of life over the past two years thanks to a tireless community effort.
The scooter track has been developed by Playsafe Playgrounds and is the latest in a series of improvements at the park, including new picnic benches, tree planting, new play equipment, a bandstand and barbecue pits.
Spearheaded by Easebourne Parish Council, the renovations have been made possible thanks to a range of grants, including £80,000 of Community Infrastructure Levy (CIL) funding from the South Downs National Park Authority. CIL funding is administered by the SDNPA and paid by developers as a means of supporting new community infrastructure.
Cutting the ribbon to officially open the new scooter track, Jessica Riches, a Planning Officer who helps administer CIL funding for the SDNPA, said: "It's wonderful to be able to see this new facility being enjoyed by young people – out exercising in the fresh air at this beautiful setting. CIL funding can make a real difference to communities, improving people's quality of life. The transformation at Easebourne Community Space is a perfect example of this, showing how planning and the community can work hand-in-hand."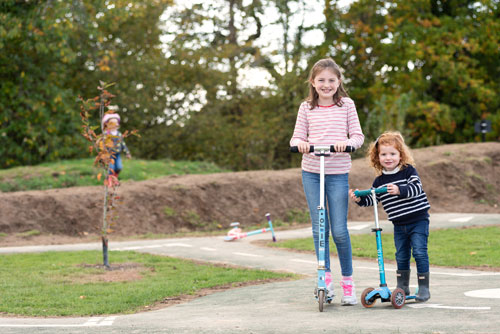 Last year Easebourne Community Space won the People's Choice Design Award from the South Downs National Park Authority. It was noted that the scheme was an "impressive mix of play area and habitat creation" and a fine example of the "power of using the National Park for health and well-being purposes".
Ian Milne, from Easebourne Parish Council, said: "This great enhancement to our much beloved Community Space and Play Park would not have been possible without the SDNPA CIL grant for which the whole Easebourne community, and especially the younger members of this Parish, are very grateful
Charlotte Cunningham, 10, who lives locally and has been enjoying using the track, said: "I love it!"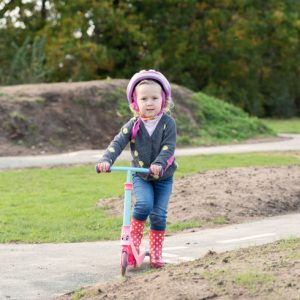 Colour Coating & Line Marking
A green anti-slip coloured surface coating was applied to the new tarmac surface by Parkmarks Southern Ltd. This was sprayed on using specialist equipment.
White line markings to the finished surface as shown on the graphics provided to the client. This will replicate a real roadway scenario and allow children to learn about road safety while having fun on their scooters.
Play Equipment Installation
Playsafe Playgrounds Ltd are an independent playground company, we are therefore able to install any other playground manufacturers equipment. This gives you the total flexibility to mix and match any solutions to suit your budget and requirements. This can range from a springer through to large steel / wooden multi tower units as well as all types of rotating and swinging equipment. As independent playground designers our dedicated team can design, develop and produce the most cost effective concepts and solutions without compromising on play value and individual items.
Our installation services include the following range of play equipment:
Single Deck Tower Units
Multi Deck Tower Units
Swings i.e. Flat Seat, Toddler, Nest
Aerial / Cable Runways
Springing equpiment i.e. springers and seesaws
Ball Play – MUGA – Multi Use Games Areas
Embankment Slides & Standard Slides
Adventure Trail Equipment i.e. suspension bridges, 'A' Frames, stilts, stepping logs, balance beams etc…
Play Huts
Roundabouts
Trampolines
Please contact us to discuss your requirements on 01730 815472