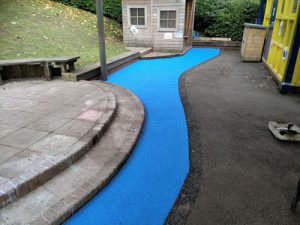 St Michaels School Wet Pour
Here is another completed Playsafe Playgrounds project for
St Michaels CofE School
in Aldershot, Hampshire. The Safety Surfacing Project involved –
The preparation, then supply and laying of coloured EPDM rubber wetpour safety surfacing
Here's some images of the St Michaels CofE School completed project: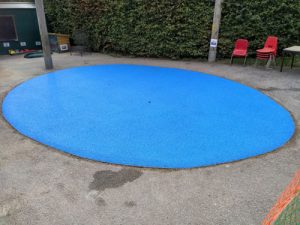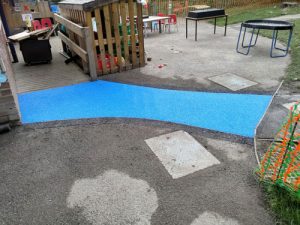 Client's Comments:
The head teacher commented "We are so pleased – thank you. I'd arranged to meet them here at 8.00, I got here at 7.50 and they were already here which was great. They have done a super job and everything was left perfectly.
 
I do have another job that you might be interested in. We've got a climbing 'thing' on the top playground which originally had bark chippings underneath it. They have now disappeared and it's fairly grotty. We need some kind of surfacing there, but not sure what would be best. Are you able to come and have look at it some time and see what you think?" – Mrs S Tyler 

Playsafe Playgrounds Safety Surfacing
Wet Pour Safety Surfacing –
The Wet Pour safety surface is constructed of bonded rubber mixed on site using specialist equipment to produce a dense, consistent texture. It is then 'wet laid' to exacting standards BSEN1177.
The key advantages of Wet Pour Rubber Surfacing are:
It can be installed to uneven surfaces and around existing play equipment
Durable, robust and resilient solution
It can be laid in high traffic areas
Reduces injury potential from falls
Low maintenance solution
Easy to clean and maintain
Tolerates many weather extremes
Can be laid to different depths depending on the Critical Fall Heights
Graphic Designs can be incorporated into the layouts
Installation –
The base on which the rubber surface is laid is either non-fines concrete or MOT Type 1, dependent on the depth of surfacing required for each area.
The top layer (wearing course) is Ethylene Propylene Diene polyethylene-modified rubber (EPDM) which is available in black, red, green, blue, beige, purple, eggshell, brown and yellow. A flecked pattern can also be achieved by mixing black with any of the other colours. To add to the play value of playgrounds, colourful graphics can be designed into the surfacing to individual requirements. The surface is slip-resistant and non-abrasive to young limbs.
Different areas beneath the equipment are laid to differing thicknesses to provide the necessary impact absorbency. The correct thickness and area are determined by the Free Fall Height (FFH) of the equipment to be installed. Wet pour safety surfacing can be laid around complex configurations of playground equipment and ground contours. It is virtually maintenance free.
Guarantees –
Wetpour surfacing is guaranteed for a period of 5 years against defects in materials and workmanship from date of invoice. The above guarantees do not include any of the following – cosmetic issues e.g. fading colours or any dis-colouration due to weathering, misuse, neglect or accident. Any damage resulting from vandalism, abnormal use or lack of maintenance is not covered by this guarantee.
Please contact us to discuss your requirements on 01730 815472