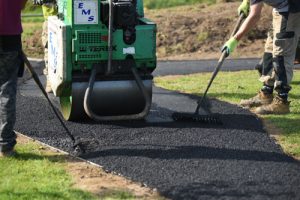 Tarmac Works Easebourne PC
This Playsafe Playgrounds ongoing project for Easebourne Parish Council in Easebourne Park, Nr Midhurst, West Sussex is the creation of a scooter track.
The Project involved the preparation of the area, tarmacing, painting and line marking.
The details are as follows:
Base Works
Mark out the track with the client on day one of works or prior to starting works on site.
Excavate a track way into the existing grass surface, as shown on the plans/graphics provided, totalling 137m2. The excavation will be approximately 1300mm width.
Excavated spoil will be used to create small mounds around the new track as shown on the graphics, any excess spoil will remain onsite and be lost elsewhere on site.
Supply and lay approximately 165m2 of geotextile membrane to the excavated area, over lapping joints by 300mm.
Supply and install 170 linear metres of 3mm thickness galvanised steel edging to form all curved and straight perimeter edges as shown on the graphics provided.
The overall width of the new track will be 1200mm minimum width.
Supply and lay 137m2 of type 1 stone to a minimum compacted depth of 100mm throughout the excavated area. Stone will be used to form the basic shapes of the shallow humps/undulations in the surface as indicated on the graphics provided.
Tarmac Surfacing
Supply, lay and roll 137m2 of 20mm dense binder course tarmac at a depth of 40mm over the new base works. (Includes the formation and shaping of shallow road humps as shown on the graphics provided).
Supply, lay and roll 137m2 of 6mm dense wearing course tarmac at a depth of 25mm over the binder course tarmac.
Here's some images of the Easebourne Park Tarmac Scooter Track Project works:
Colour Coating & Line Marking
Apply a green anti-slip coloured surface coating to the new tarmac surface. This will be sprayed on using specialist equipment.
Apply painted white line markings to the finished surface as shown on the graphics provided. This will replicate a real roadway scenario and allow children to learn about road safety while having fun on their scooters.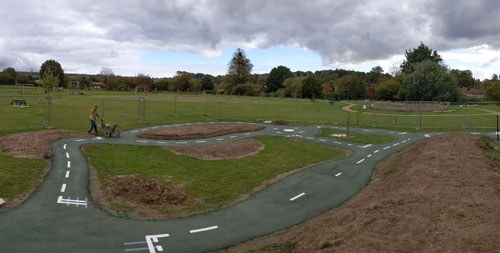 Play Equipment Installation
Playsafe Playgrounds Ltd are an independent playground company, we are therefore able to install any other playground manufacturers equipment. This gives you the total flexibility to mix and match any solutions to suit your budget and requirements. This can range from a springer through to large steel / wooden multi tower units as well as all types of rotating and swinging equipment. As independent playground designers our dedicated team can design, develop and produce the most cost effective concepts and solutions without compromising on play value and individual items.
Our installation services include the following range of play equipment:
Single Deck Tower Units
Multi Deck Tower Units
Swings i.e. Flat Seat, Toddler, Nest
Aerial / Cable Runways
Springing equpiment i.e. springers and seesaws
Ball Play – MUGA – Multi Use Games Areas
Embankment Slides & Standard Slides
Adventure Trail Equipment i.e. suspension bridges, 'A' Frames, stilts, stepping logs, balance beams etc…
Play Huts
Roundabouts
Trampolines
Please contact us to discuss your requirements on 01730 815472