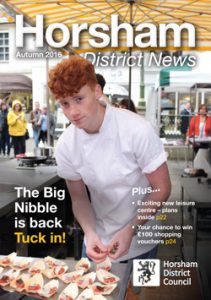 Horsham District Council Autumn News
Playsafe Playgrounds recent supply and installation works have made it into Horsham District Council's Autumn News Publication. Please see the information on their website or click the image below and download a copy. It's all on page 19.
Welcome to the enchanted forest
A carved owl keeps watch over the play area at Ropeland Way in Horsham which has undergone a fun transformation into an 'enchanted forest'.
The play area, located within a housing estate in North Horsham, was re-opened in June 2016 and provides imaginative play
opportunities for families with young children. Specifically designed for children aged one to eight, the play area has a see-saw, swings and a special 'tree house' with slide and climbing units. Following a leaf and paw print trail leads to a discovery of forest animals and insects, and along the way, giant mushrooms provide resting places under the canopy of an enchanted tree.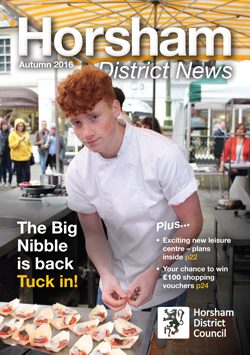 Play Equipment Manufacturer – Robinia Timber
Playsafe Playgrounds also supply bespoke Robinia Timber Play Solutions for Parks and Open Spaces, Parish Councils and Schools to suit budgetary requirements and specifications. These can range from small decked tower units right through to an extensive range of adventure trail items. Similar to the large park projects, every item of Robinia play equipment manufactured to BSEN1176 standards, is lovingly hand crafted by our locally sourced team of craftsmen in the heart of West Sussex and finished to the highest quality and standards.
Please contact us to discuss your requirements on 01730 815472