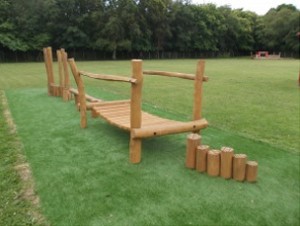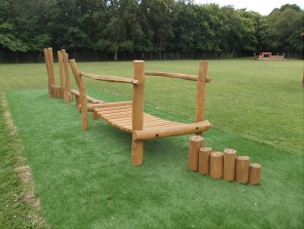 Adventure Trail – Robinia Timber Play Equipment
Please check out our a recent installation of bespoke Robinia Timber Adventure Trail equipment.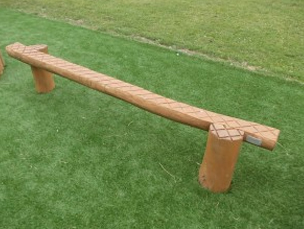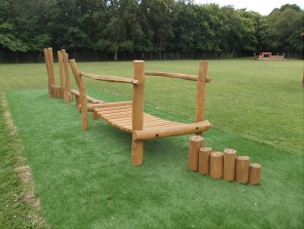 Playsafe Playgrounds also manufacture bespoke Robinia Timber Play Solutions for Borough, Parish Councils, Local Authorities and Schools to suit budgetary requirements and specifications. These can range from small decked tower units right through to an extensive range of adventure trail items. Similar to the large park projects, every item of Robinia play equipment manufactured to BSEN1176 standards, is lovingly hand crafted by our locally sourced team of craftsmen in the heart of West Sussex and finished to the highest quality and standards. As playground designers, our dedicated team can design, develop and produce the most cost effective concepts and solution without compromising on play value and play equipment.
Some examples of our equipment range include:
Swings
Springing equpiment i.e. hand carved & stained springers and seesaws
Balance Beams
Adventure Trail Equipment i.e. suspension bridges, 'A' Frames, stilts, stepping logs etc
Embankment Slides & Standard Slides
Play Huts
Single Deck Tower Units
Multi Deck Tower Units
Playsafe Playgrounds Manufactures bespoke equipment from Robinia as it has the following properties:
Dense hardwood
Highly durable and robust solution for play equipment
High quality properties
Excellent rot and insect resistance
No additional timber treatments required to increase longevity
Low combustibility
The advantages of using Robinia Timber are:
Every piece of Timber will be totally unique and bespoke
Each piece of equipment can be designed to harmonise with the natural environment
Robinia is a rapidly growing hardwood (mature in 30 years)
It is a very tactile and durable timber
Creates large, chunky, high quality solutions
We offer a 10 year guarantee
Safety Surfacing
As independent manufacturers, suppliers and installers we also have our own safety surfacing teams who can install Wet Pour rubber and SafaMulch rubber safety surfacing. We also supply and install Artificial Grass, Grass Mats and all types of loose fill safety surfacing e.g. bark, wood chip, sand etc. Every installation and base works are completed in accordance to BSEN1177 and is all fully certificated. We also offer full guarantees on our equipment, installation and safety surfacing works.
Please contact us to discuss your requirements on 01730 815472