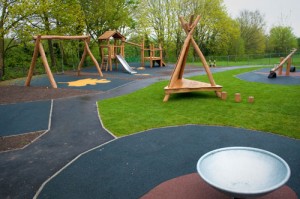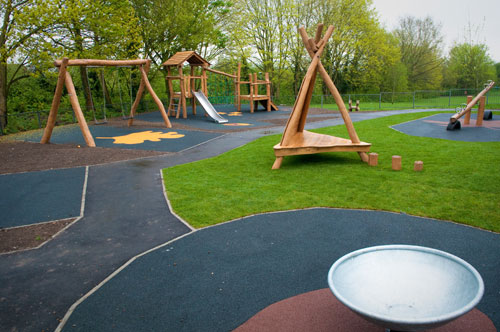 Medway Council Broomhill Park
Playsafe Playgrounds – Medway Council
Background
Staff at Medway Council's Green Space development team designed a natural play area in Broomhill Park, Strood, Kent, when it had the opportunity to spruce up an old playground using £90,000 of developer money. The team wanted the play equipment to be built of Robinia Timber Wood, a hardwood timber that is rot resistant and splinter resistant, and included a complete linking path, inclusive equipment and nature themed wet pour graphics. The council won £60,000 of funding from the SITA Trust in 2013.
Outcome
West Sussex based company Playsafe Playgrounds Ltd won the tender for the project and started work on the site in February 2014 with the Dylan Group manufacturing a see-saw, rope climbing frame, double swings, Wig-Wam, bespoke spider and hedgehog springers for the hardwood Robinia Timber. Playsafe Playgrounds also installed a sports wall for use by older children as well as a Tarmac floor surface for active group games. Work to improve the footpaths also improved access to the park, particularly for wheelchair users.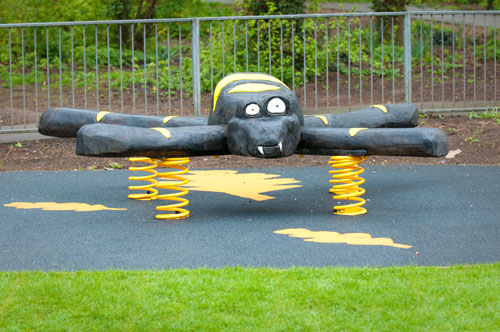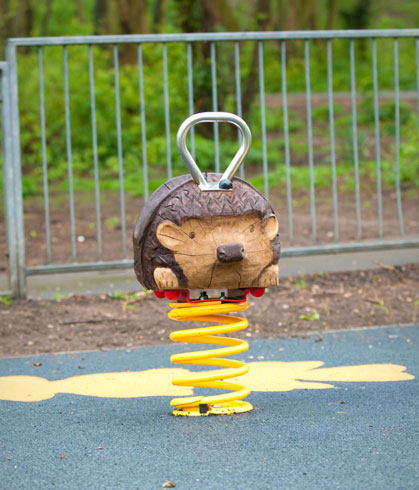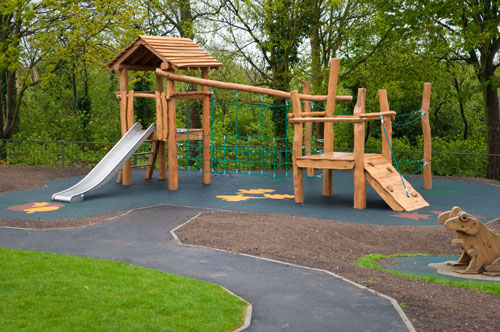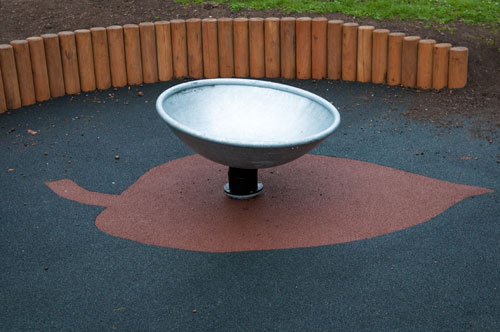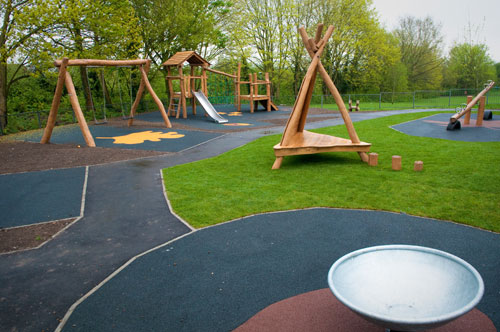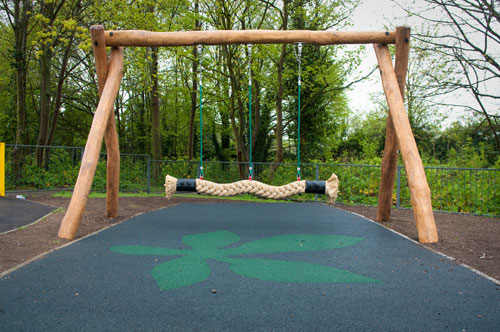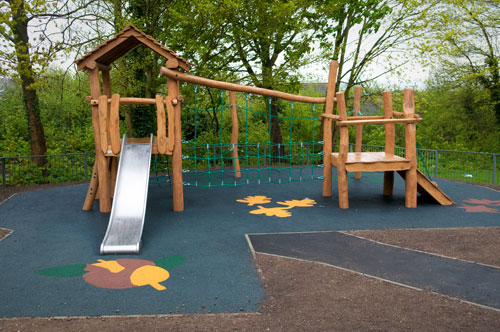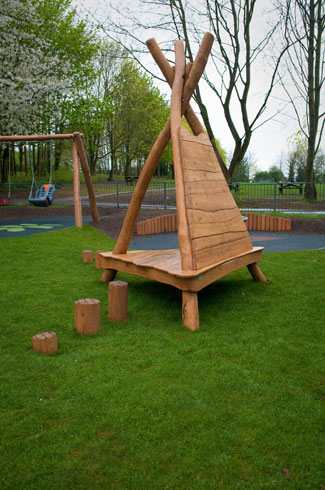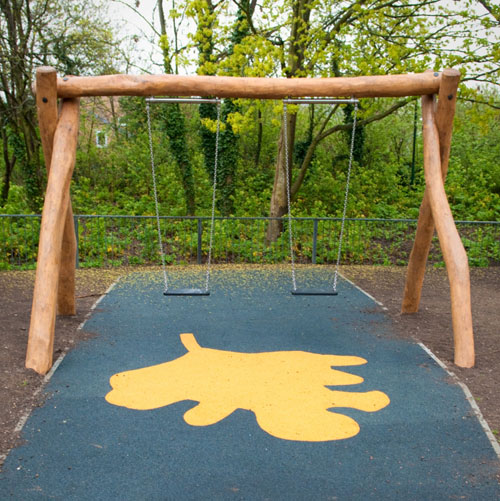 Playsafe Playgrounds Safety Surfacing
Wet Pour Safety Surfacing –
The Wet Pour safety surface is constructed of bonded rubber mixed on site using specialist equipment to produce a dense, consistent texture. It is then 'wet laid' to exacting standards BSEN1177.
The key advantages of Wet Pour Rubber Surfacing are:
It can be installed to uneven surfaces and around existing play equipment
Durable, robust and resilient solution
It can be laid in high traffic areas
Reduces injury potential from falls
Low maintenance solution
Easy to clean and maintain
Tolerates many weather extremes
Can be laid to different depths depending on the Critical Fall Heights
Graphic Designs can be incorporated into the layouts
Installation –
The base on which the rubber surface is laid is either non-fines concrete or MOT Type 1, dependent on the depth of surfacing required for each area.
The top layer (wearing course) is Ethylene Propylene Diene polyethylene-modified rubber (EPDM) which is available in black, red, green, blue, beige, purple, eggshell, brown and yellow. A flecked pattern can also be achieved by mixing black with any of the other colours. To add to the play value of playgrounds, colourful graphics can be designed into the surfacing to individual requirements. The surface is slip-resistant and non-abrasive to young limbs.
Different areas beneath the equipment are laid to differing thicknesses to provide the necessary impact absorbency. The correct thickness and area are determined by the Free Fall Height (FFH) of the equipment to be installed. Wet pour safety surfacing can be laid around complex configurations of playground equipment and ground contours. It is virtually maintenance free.
Guarantees –
Wetpour surfacing is guaranteed for a period of 5 years against defects in materials and workmanship from date of invoice. The above guarantees do not include any of the following – cosmetic issues e.g. fading colours or any dis-colouration due to weathering, misuse, neglect or accident. Any damage resulting from vandalism, abnormal use or lack of maintenance is not covered by this guarantee.
Play Equipment Installation
Playsafe Playgrounds Ltd are an independent playground company, we are therefore able to install any other playground manufacturers equipment. This gives you the total flexibility to mix and match any solutions to suit your budget and requirements. This can range from a springer through to large steel / wooden multi tower units as well as all types of rotating and swinging equipment. As independent playground designers our dedicated team can design, develop and produce the most cost effective concepts and solutions without compromising on play value and individual items.
Our installation services include the following range of play equipment:
Single Deck Tower Units
Multi Deck Tower Units
Swings i.e. Flat Seat, Toddler, Nest
Aerial / Cable Runways
Springing equpiment i.e. springers and seesaws
Ball Play – MUGA – Multi Use Games Areas
Embankment Slides & Standard Slides
Adventure Trail Equipment i.e. suspension bridges, 'A' Frames, stilts, stepping logs, balance beams etc…
Play Huts
Roundabouts
Trampolines
Please contact us to discuss your requirements on 01730 815472