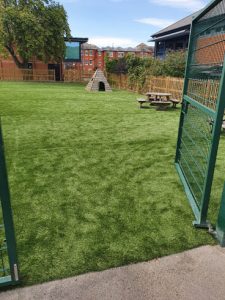 Dulwich Prep School – Artificial Grass
Here is another Playsafe Playgrounds project for Dulwich Prep School, in Dulwich, London.
The Project involved the following works:
Repairing drainage
Area preparation followed by the supply and installation of 431m2 of artificial grass
Here's some images of the completed Dulwich Prep School Project:
Playsafe Playgrounds Safety Surfacing
Playsafe Playgrounds Artificial Grass Safety Surfacing
This is a high grade artificial grass that can be laid onto existing grounds or coupled up with impact matting made from recycled closed cell polyethylene foam which is heat bonded without the use of glue or chemical adhesives. It is ideal for use in and around play areas. Just like real grass, the artificial grass ais completely porous and will drain like real grass. They are also flexible so that they follow the contours of the ground. Unlike real turf though, it keeps its natural vibrant colour through all weathers.
The key advantages of Artificial Grass Safety Surfacing are:
Green and Vibrant All Year Round
No Mowing Required
Easy To Clean
No Maintenance Required
No Watering Required
High UV Resistance
No Feeding
No Muddy Footprints
Installation
Artificial Grass Safety Surfacing is tested in accordance with BSEN1177 (1998). It can be installed onto a stone base, grass or tarmac and has the added benefit that the expensive groundwork costs are not always necessary.
Play Equipment Installation
Playsafe Playgrounds Ltd are an independent playground company, we are therefore able to install any other playground manufacturers equipment. This gives you the total flexibility to mix and match any solutions to suit your budget and requirements. This can range from a springer through to large steel / wooden multi tower units as well as all types of rotating and swinging equipment. As independent playground designers our dedicated team can design, develop and produce the most cost effective concepts and solutions without compromising on play value and individual items.
Our installation services include the following range of play equipment:
Single Deck Tower Units
Multi Deck Tower Units
Swings i.e. Flat Seat, Toddler, Nest
Aerial / Cable Runways
Springing equpiment i.e. springers and seesaws
Ball Play – MUGA – Multi Use Games Areas
Embankment Slides & Standard Slides
Adventure Trail Equipment i.e. suspension bridges, 'A' Frames, stilts, stepping logs, balance beams etc…
Play Huts
Roundabouts
Trampolines
Please contact us to discuss your requirements on 01730 815472