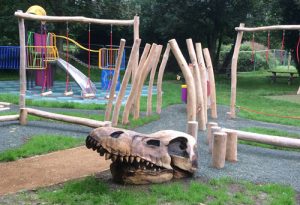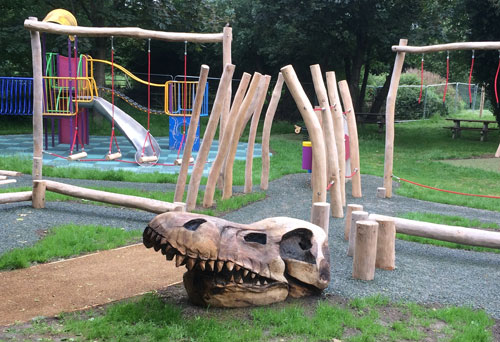 Hardwood Timber Play Equipment South Heighton
Here is another Playsafe Playgrounds project for the South Heighton Parish Council in East Sussex as part of various projects for Lewes District Council.
Playsafe Playgrounds Ltd was asked to manufacture, supply and install a bespoke hardwood robinia timber play equipment designed to cater for a wide age range children.
The following equipment was installed:
Hardwood timber 'Dinosaur Skeleton Structure' complete with the following features –
Carved hardwood Dinosaur head / seating feature;
Curved arch robinia pole rib cage (tunnel);
Climbing ropes to one side of the 'rib cage'
Music wall with bongo drums and marimba;
Drop rope traverse, hanging log traverse, rolling log and balance beams will all be incorporated into the play structure;
Todder Play Hut with the following features:
Stainless steel fireman's pole;
Ladder access;
Inclined net access;
Apex roof with shingles;
Timber Stack Play Unit with the following features:
Notched climbing poles;
Sloping climbing poles secured to verticals;
Large triangular climbing nets;
Balancing ropes;
Additional Play Equipment –
Robinia Timber Cradle Swing;
Robinia Timber Nest Swing;
Robinia Timber Flat Seat Swing;
Mini Picnic Table with Mushroom Seats;
The Robinia Timber was supplied by the Dylan Group for the project, with the project management, fabrication, construction and installation carried out Playsafe Playgrounds management and installation teams.
Here's some images of the completed South Heighton Project: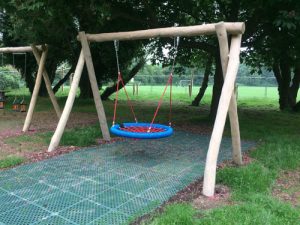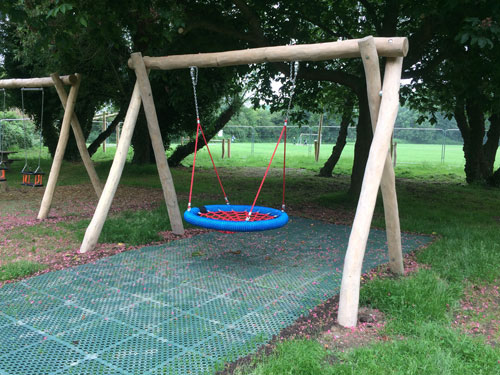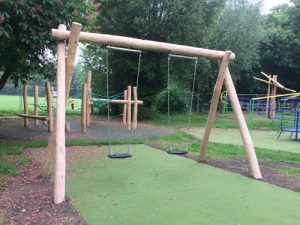 Playsafe Playgrounds Safety Surfacing
Playsafe Playgrounds Artificial Grass Safety Surfacing
This is a high grade artificial grass that can be laid onto existing grounds or coupled up with impact matting made from recycled closed cell polyethylene foam which is heat bonded without the use of glue or chemical adhesives. It is ideal for use in and around play areas. Just like real grass, the artificial grass ais completely porous and will drain like real grass. They are also flexible so that they follow the contours of the ground. Unlike real turf though, it keeps its natural vibrant colour through all weathers.
The key advantages of Artificial Grass Safety Surfacing are:
Green and Vibrant All Year Round
No Mowing Required
Easy To Clean
No Maintenance Required
No Watering Required
High UV Resistance
No Feeding
No Muddy Footprints
Installation
Artificial Grass Safety Surfacing is tested in accordance with BSEN1177 (1998). It can be installed onto a stone base, grass or tarmac and has the added benefit that the expensive groundwork costs are not always necessary.
Playsafe Playgrounds SafaMulch – Bonded Rubber Safety Surfacing
The distinct advantage of the SafaMulch product is that it's bonded and can be laid directly to a geotextile terram onto grass/soil, so doesn't require any ground work preparation. SafaMulch is manufactured from premium tyre's free from fibres and wire. The rubber bark is less than 5mm flat and textured like bark or fern. It is made in the UK using 100% recycled materials, will last and provide low maintenance for years, it's unaffected by the environment avoiding the costs and trouble of annual replacement – the fade resistant colour ensures your play area it completely enhanced all year round.
SafaMulch bark will not absorb water – therefore dries quickly, will not freeze and will not attract animals or insects. It's other key benefits are:
Fully Tested to BS EN 1177*
Ideal Safety Surfacing in Children's Play Areas
Wear Pads (under swings, end of slides etc)
All Weather Surfacing
Minimal or no Base Preparation works required
Pathways (Slip Resistant)
Mowing Strips (under or around fences)
Weed Control
Heavy Wear / Erosion Control
Moisture Retention within Landscaped Areas
Bark or Woodchip Alternative
Looks like bark from a distance
Does not migrate or Require topping up
Reduced installation time compared to wet pour
Low Maintenance
Variety of colours available
Five Year Guarantee
Requires only 40mm depth of SafaMulch (CFH 2.5m) if laid directly to soil**
* SafaMulch bonded rubber conforms to BSEN1177 safety standards. E.g. a SafaMulch depth of 40mm (to soil, 100mm onto concrete) will provide maximum critical fall height of 2500mm
Grass Mat Safety Surfacing
Grass mats are a slip resistant plastic matting surface for use in high wear situations including swing bays and any area that requires protection from foot traffic. Grass mats have excellent impact attenuation properties, making it ideal for use beneath play equipment, and have been tested in accordance with BSEN1177 (Free Fall Height up to 3.0m).
Grass mats are made from hard-wearing plastic, requiring little or no maintenance and once laid virtually disappears from view when the grass grows through it. The openings allow liquid and debris to drain, keeping the surface dry and clean. It provides an economical alternative to continuous rubber surfacing whilst retaining many of the advantages.
The key advantages of Grass Mats Safety Surfacing are:
Durable, robust and hard-wearing
Doesn't require extensive ground works
High slip resistance
Good drainage
Low maintenance
Can be inpremented on flat or sloping landscapes
Secure interlocking connections
The interlocking grass mats cover large areas quickly and easily on the Critical Fall Heights
Ability to mow directly over the grass mat surfacing
Available in Black and Green (other colours available on request)
Pedestiran, Wheelchair and pushchair friendly
Can be installed on existing grass surfacings
Good for erosion control
Once established, the grass can be mown as usual
Made from self-extinguishing compounds
Installation –
The installation onto existing grass consists of levelling the site as necessary, laying graded topsoil raked over to form an even surface to lay the mats. This is then seeded with amenity mix grass seed.
The area is then covered with a grow through stabilising mesh prior to the Grasslok plastic surfacing being laid with mats being secured at all joints and the perimeter edges being cut into the grass surface with additional securing pins
Play Equipment Installation
Playsafe Playgrounds Ltd are an independent playground company, we are therefore able to install any other playground manufacturers equipment. This gives you the total flexibility to mix and match any solutions to suit your budget and requirements. This can range from a springer through to large steel / wooden multi tower units as well as all types of rotating and swinging equipment. As independent playground designers our dedicated team can design, develop and produce the most cost effective concepts and solutions without compromising on play value and individual items.
Our installation services include the following range of play equipment:
Single Deck Tower Units
Multi Deck Tower Units
Swings i.e. Flat Seat, Toddler, Nest
Aerial / Cable Runways
Springing equpiment i.e. springers and seesaws
Ball Play – MUGA – Multi Use Games Areas
Embankment Slides & Standard Slides
Adventure Trail Equipment i.e. suspension bridges, 'A' Frames, stilts, stepping logs, balance beams etc…
Play Huts
Roundabouts
Trampolines
Please contact us to discuss your requirements on 01730 815472