Our Lady Queen Of Heaven Primary School Crawley – Hardwood Robinia Adventure Trail Equipment
Here is another Playsafe Playgrounds project for Our Lady Queen Of Heaven Primary School in Crawley as part of their Play Ground. Playsafe Playgrounds Ltd was given the contract by Sunninghill Construction to manufacture, supply and install the following Robinia Hardwood Adventure Trail Equipment:
Rotating balance walk with hand rope
Traverse Climbing Wall
Rope Weave Crossing
Bridge Scramble net
Rope Bridge
Walk and Stretch x 3
Balance Beam
200mm diameter robinia stepper Logs x 6
Step Up Step Down
Drop Rope Traverse
Spring Disc
A Frame with net/ladder
Our Lady Queen Of Heaven Primary School Crawley 3d Design Concept
The safety surfacing was SafaMulch supplied and laid by Playsafe Playgrounds in-house surfacing team.
The Robinia Timber was supplied by the Dylan Group for the project, with the project management, fabrication, construction and installation carried out Playsafe Playgrounds management and installation teams.
Here are some images of the Project: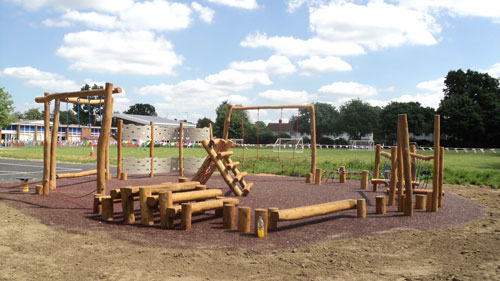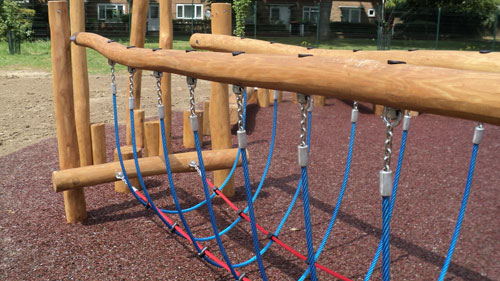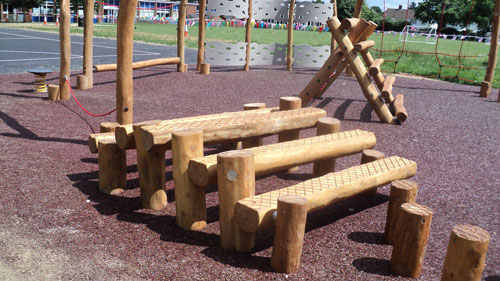 Play Equipment Manufacturer – Robinia Timber
Playsafe Playgrounds also supply bespoke Robinia Timber Play Solutions for Parks and Open Spaces, Parish Councils and Schools to suit budgetary requirements and specifications. These can range from small decked tower units right through to an extensive range of adventure trail items. Similar to the large park projects, every item of Robinia play equipment manufactured to BSEN1176 standards, is lovingly hand crafted by our locally sourced team of craftsmen in the heart of West Sussex and finished to the highest quality and standards.
Please contact us to discuss your requirements on 01730 815472