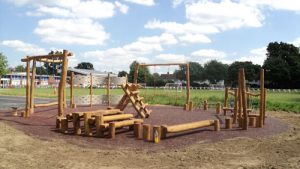 Our Lady Queen Of Heaven Primary School Crawley
Here is another Playsafe Playgrounds project for Our Lady Queen Of Heaven Primary School in Crawley as part of their Play Ground. Playsafe Playgrounds Ltd was given the contract by Sunninghill Construction to manufacture, supply and install the following Robinia Hardwood Adventure Trail Equipment:
Rotating balance walk with hand rope
Traverse Climbing Wall
Rope Weave Crossing
Bridge Scramble net
Rope Bridge
Walk and Stretch x 3
Balance Beam
200mm diameter robinia stepper Logs x 6
Step Up Step Down
Drop Rope Traverse
Spring Disc
A Frame with net/ladder
Our Lady Queen Of Heaven Primary School Crawley 3d Design Concept
The safety surfacing was SafaMulch supplied and laid by Playsafe Playgrounds in-house surfacing team.
The Robinia Timber was supplied by the Dylan Group for the project, with the project management, fabrication, construction and installation carried out Playsafe Playgrounds management and installation teams.
Here are some images of the Project: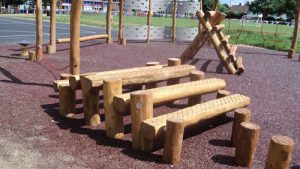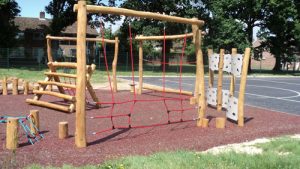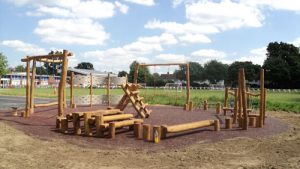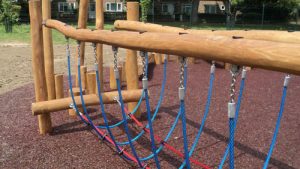 Playsafe Playgrounds SafaMulch – Bonded Rubber Safety Surfacing
The distinct advantage of the SafaMulch product is that it's bonded and can be laid directly to a geotextile terram onto grass/soil, so doesn't require any ground work preparation. SafaMulch is manufactured from premium tyre's free from fibres and wire. The rubber bark is less than 5mm flat and textured like bark or fern. It is made in the UK using 100% recycled materials, will last and provide low maintenance for years, it's unaffected by the environment avoiding the costs and trouble of annual replacement – the fade resistant colour ensures your play area it completely enhanced all year round.
SafaMulch bark will not absorb water – therefore dries quickly, will not freeze and will not attract animals or insects. It's other key benefits are:
Fully Tested to BS EN 1177*
Ideal Safety Surfacing in Children's Play Areas
Wear Pads (under swings, end of slides etc)
All Weather Surfacing
Minimal or no Base Preparation works required
Pathways (Slip Resistant)
Mowing Strips (under or around fences)
Weed Control
Heavy Wear / Erosion Control
Moisture Retention within Landscaped Areas
Bark or Woodchip Alternative
Looks like bark from a distance
Does not migrate or Require topping up
Reduced installation time compared to wet pour
Low Maintenance
Variety of colours available
Five Year Guarantee
Requires only 40mm depth of SafaMulch (CFH 2.5m) if laid directly to soil**
* SafaMulch bonded rubber conforms to BSEN1177 safety standards. E.g. a SafaMulch depth of 40mm (to soil, 100mm onto concrete) will provide maximum critical fall height of 2500mm
Play Equipment Installation
Playsafe Playgrounds Ltd are an independent playground company, we are therefore able to install any other playground manufacturers equipment. This gives you the total flexibility to mix and match any solutions to suit your budget and requirements. This can range from a springer through to large steel / wooden multi tower units as well as all types of rotating and swinging equipment. As independent playground designers our dedicated team can design, develop and produce the most cost effective concepts and solutions without compromising on play value and individual items.
Our installation services include the following range of play equipment:
Single Deck Tower Units
Multi Deck Tower Units
Swings i.e. Flat Seat, Toddler, Nest
Aerial / Cable Runways
Springing equpiment i.e. springers and seesaws
Ball Play – MUGA – Multi Use Games Areas
Embankment Slides & Standard Slides
Adventure Trail Equipment i.e. suspension bridges, 'A' Frames, stilts, stepping logs, balance beams etc…
Play Huts
Roundabouts
Trampolines
Please contact us to discuss your requirements on 01730 815472