Acorn Unit Play Tower Saltdean Oval Park – Hardwood Robinia Play Equipment Brighton & Hove Council
Playsafe Playgrounds were asked to create a bespoke Robinia Acorn Unit Play Tower at the Saltdean Oval Park.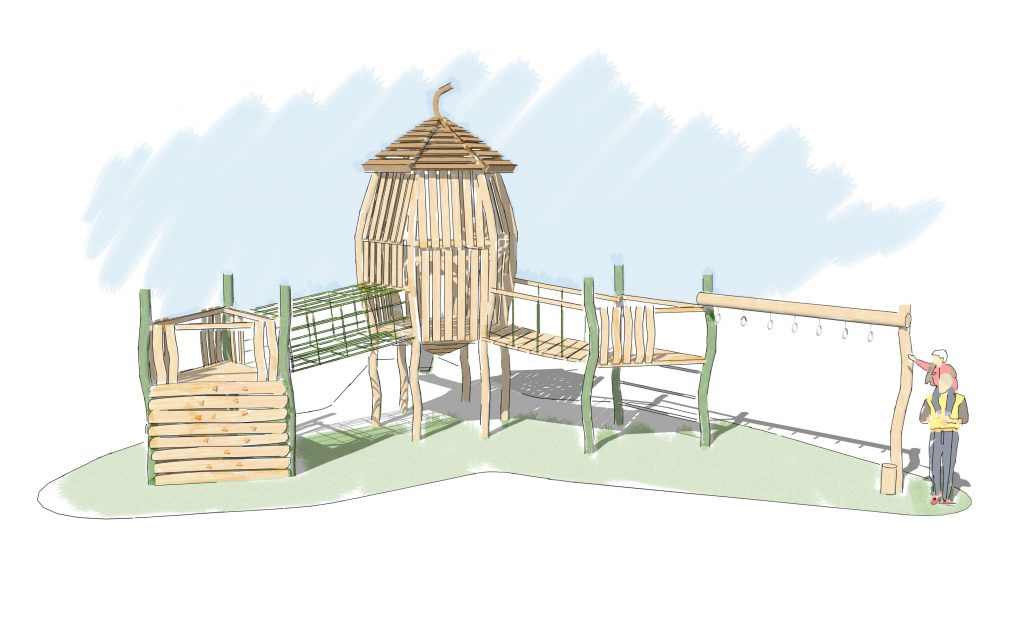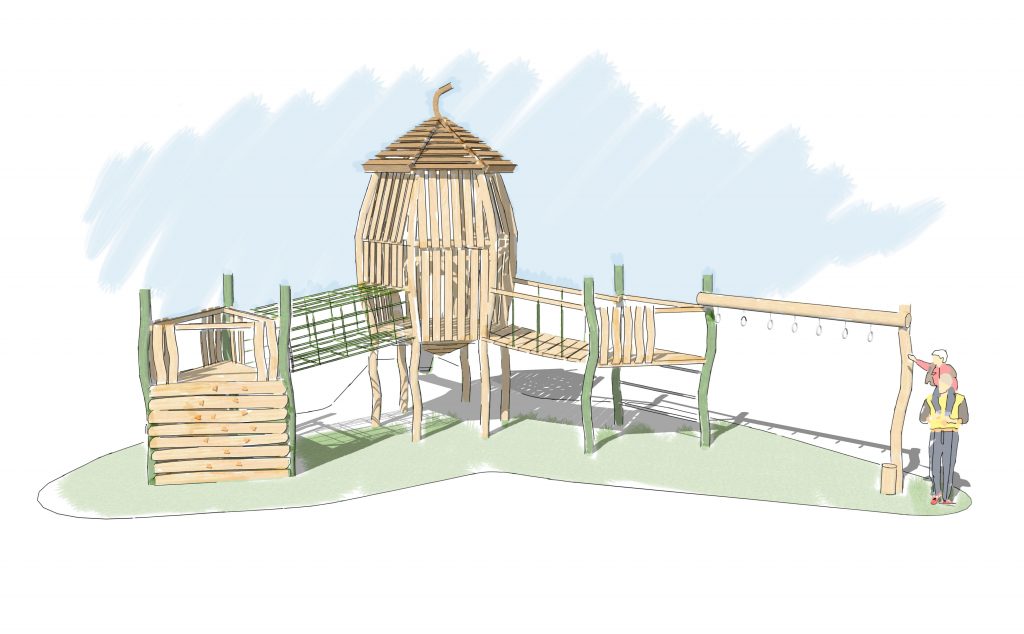 The item featured the following features:
Central Acorn Tower
1 x 1800mm high central hexagonal deck constructed entirely from robinia timber;
Deck area to be 2400mm x 2400mm;
170mm diameter base poles;
100mm diameter upper poles picked specifically to have similar curves along the length of the poles to better depict the curves of an acorn;
Under/over slatted roof complete with robinia stalk all coloured in a darker contrasting stain to the main body of the unit;
Under deck, fully enclosed cone to form the shape of the acorn;
3 x fully filled sides to the acorn structure from deck to roof height using straight edged boards for defined lines;
1 x partially clad section where tunnel net is attached using straight edged boards for defined lines;
1 x stainless steel slide leading from main 1800mm high deck;
Triangular Towers and Bridges
2 x 1500mm high triangular decks, both linked to the main deck;
1 of the triangular decks (with climbing wall) will be partially boarded to create an enclosed area under deck level using waney edged boards;
1 x 2000mm long linking clatter bridge;
1 x 2000mm long linking rope tunnel;
4 x stainless steel ladder rungs for access to triangular platform;
1 x stainless steel fireman's pole;
1 x climbing wall access to triangular deck using waney edged boards;
1 x set of tarzan rings attached to the main frame of the unit;
The safety surfacing was SafaMulch supplied and laid by Playsafe Playgrounds in-house specialist surfacing team. The Robinia Timber was supplied by the Dylan Group for the project, with the project management, fabrication, construction and installation carried out Playsafe Playgrounds management and installation teams.
Here are some images of the Project: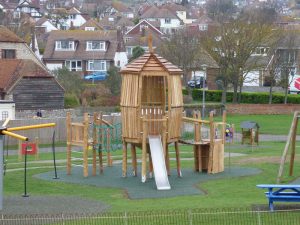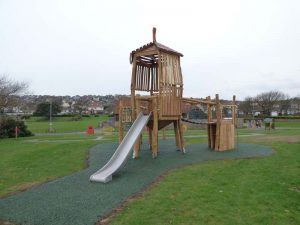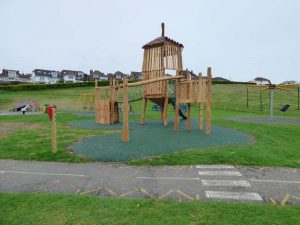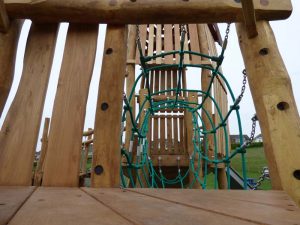 Play Equipment Manufacturer – Robinia Timber
Playsafe Playgrounds also supply bespoke Robinia Timber Play Solutions for Parks and Open Spaces, Parish Councils and Schools to suit budgetary requirements and specifications. These can range from small decked tower units right through to an extensive range of adventure trail items. Similar to the large park projects, every item of Robinia play equipment manufactured to BSEN1176 standards, is lovingly hand crafted by our locally sourced team of craftsmen in the heart of West Sussex and finished to the highest quality and standards.
Please contact us to discuss your requirements on 01730 815472